Research at structural concrete laboratory
Research at structural concrete laboratory
Punching of concrete slabs
Research on punching shear is crucial, as it often controls the choice of the plate thickness in the design of flat slabs. Furthermore, the concequences of a punching failure are catastrophic, as demontrated by several accidents.

An important experimental research has been performed by the Structural Concrete Laboratory of EPFL, with more than 200 punching tests on full-size specimens since the year 2000. A mechanical model, the Critical Shear Crack Theory, has been developed. Initially applicable to symmetrical cases for slabs without transverse reinforcement, it has been expanded since and gives excellent results for all kinds of practical cases : slabs with transverse reinforcement, edge and corner columns, prestressed and post-tensioned slabs, fiber-reinforced concrete, strengthening of slabs, ...

Consequently, this model has been adopted by the Swiss Concrete Code SIA 262 (2003 and 2013) and by the fib 2010 Model-Code.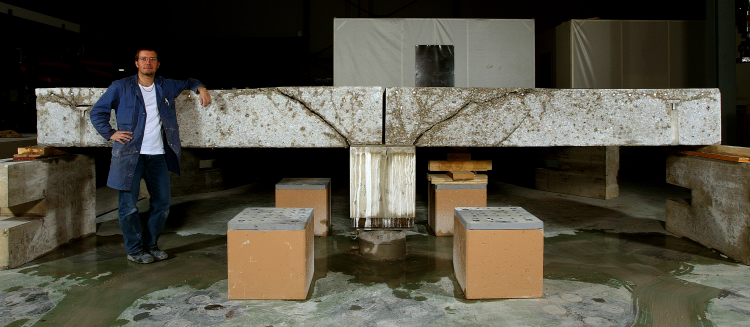 Reference publications
Theoretical model for symmetrical punching of slabs without transverse reinforcement
Theoretical model for symmetrical punching of slabs with transverse reinforcement
Experimental investigation of slabs without punching reinforcement
Experimental investigation of slabs with punching reinforcement
Size effect
Strengthening methods of slabs against punching
Nonsymmetrical punching
Punching by seismic action
Influence of column size and slab slenderness
Punching of fiber-reinforced concrete slabs
Punching of prestressed concrete slabs
Punching of continuous slabs
Punching of footings
Punching and slab-column connections subjected to very high column loads
Slabs with concentrated loads in the vicinity of linear supports
Punching due to impact loading
Codes